E5 Series Biological Microscope
Brands SOPTOP Microscope
Product Code:E5 Series Biological Microscope
Availability:Pre-Order
---
---
family: Arial, Helvetica, sans-senif, SimSun;">
E5 series biological microscope with elaborate appearance and reliable quality, is beautiful and practical. Its easy operation and clear image inspire students' imagination and interesting of microscopy world, is helpful to explore the mystery of life science. New generation of scientists are born from here.
Compact and solid, innovative frame
High rigid but small as E5 series is, specially designed for students. The frame with hollow design is lightweight but stable, easy to carry. Pure white body with blue on the both sides, is fresh and vivid.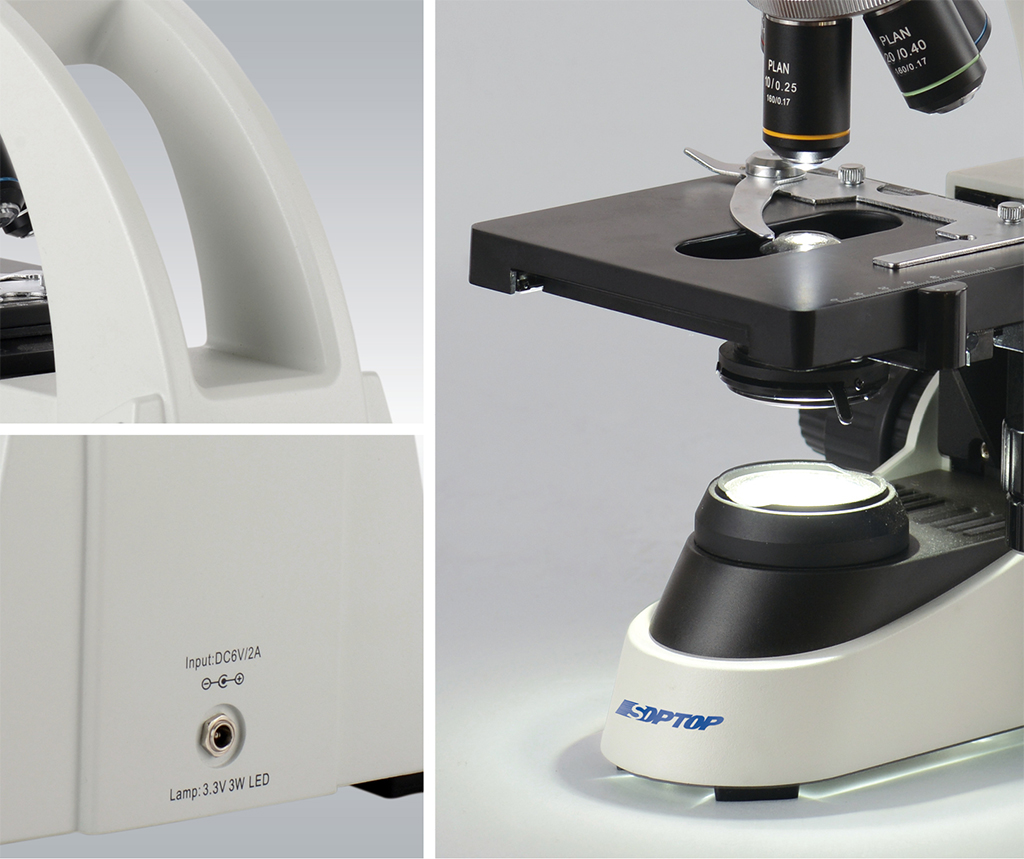 Ergonomics design
According to different interpupillary distances and eyesights of different people, the spacing of binocular tubes can be adjustable from 50mm to 75mm and the left tube with the focusing device, diopter is ±5 adjustable.
Coaxial coarse and fine adjustments on both sides of the frame, are easy to focus by either hand. The tension of coarse knob is adjustable, and the precision of fine knob is 0.002mm. Upper limit design avoids the impact between objective and slide.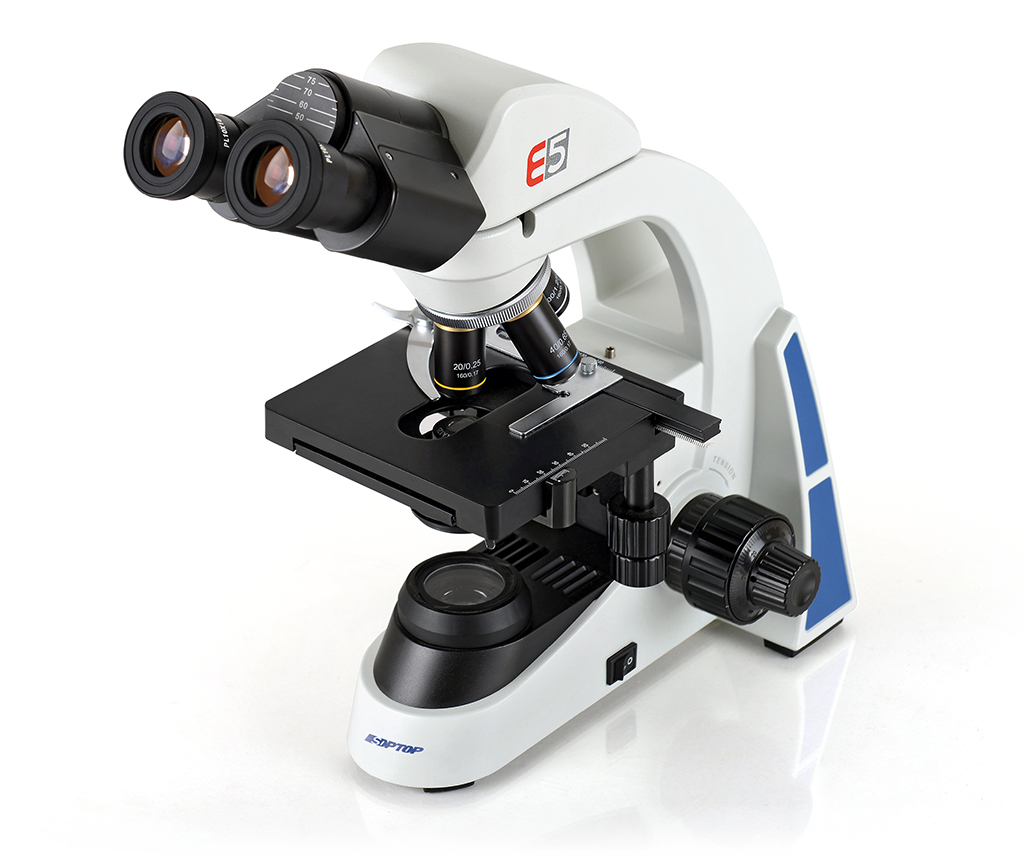 Optical system

Finite color corrected optical system

Viewing head

30° inclined monocular head

30° inclined binocular head, interpupillary distance: 50-75mm, ±5 diopter adjustable

30° inclined trinocular head, splitting ratio R:T=80:20, interpupillary distance: 50-75mm, ±5 diopter adjustable

30° inclined digital viewing head, built-in 3.0 mega pixels CMOS, USB output; interpupillary distance: 50-75mm, ±5 diopter adjustable

Eyepiece

Wide field plan eyepiece PL10X/18mm with/without reticle; PL10X/18mm with/without pointer

Objective

Achromatic objective( 4X, 10X, 40X, 100X)

Plan achromatic objective( 4X, 10X, 40X, 100X)

Nosepiece

Quadruple nosepiece

Frame

Coaxial coarse and fine adjustment, with coarse adjustment stop and tightness adjustment, range: 25mm, precision: 0.002mm.3W LED, center presetting, intensity adjustable, external wide voltage AC adapter, 100V-240V_AC50/60Hz input, DC7.5V 2A output.

Coaxial coarse and fine adjustment, with coarse adjustment stop and tightness adjustment, range: 25mm, precision: 0.002mm.3W LED, center presetting, intensity adjustable, external wide voltage AC adapter, 100V-240V_AC50/60Hz input, DC6V 2A output.

Coaxial coarse and fine adjustment, with coarse adjustment stop and tightness adjustment, range: 25mm, precision: 0.002mm.3W LED, center presetting, intensity adjustable, internal switch 100V-240V_AC50/60Hz

Coaxial coarse and fine adjustment, with coarse adjustment stop and tightness adjustment, range: 25mm, precision: 0.002mm.3W LED, center presetting, intensity adjustable, internal 4 pieces rechargeable batteries, external wide voltage battery charger, 100V-240V_AC50/60Hz input, DC6V 1A output.

Stage

132mmX140mm double layers mechanical stage, moving range: 50mmX76mm, precision: 0.1mm.

Condenser

N.A.1.25 Abbe condenser with iris diaphragm

Others

Filters for transmitted light: blue/yellow/green

Camera accessories: 0.35X/0.5X/1X focusing C-mount