EX30 Biological Microscope
Brands SOPTOP Microscope
Product Code:EX30 Biological Microscope
Availability:Pre-Order
---
---
family: Arial, Helvetica, sans-senif, SimSun;">
The new EX30 biological microscope specially designed for universitis or laboratories of biomedicine,and other relevant institutions.Train of thought in the design,EX30 made a comprehensive innovation and broke with the traditional design style.Its outstanding functions,excellent cost performance,easy and comfortable operation,presents an over expected splendid micro image.
Rotating eyepiece tube design
Interpupillary distance range is 50-75mm and eyepiece tube can be rotated 360.The eye-point would be 34mm higher through rotating the eyepiece tube when interpupillary distance is 65mm.The traditional technology (using eye- point raiser to heighten observation height) is replaced.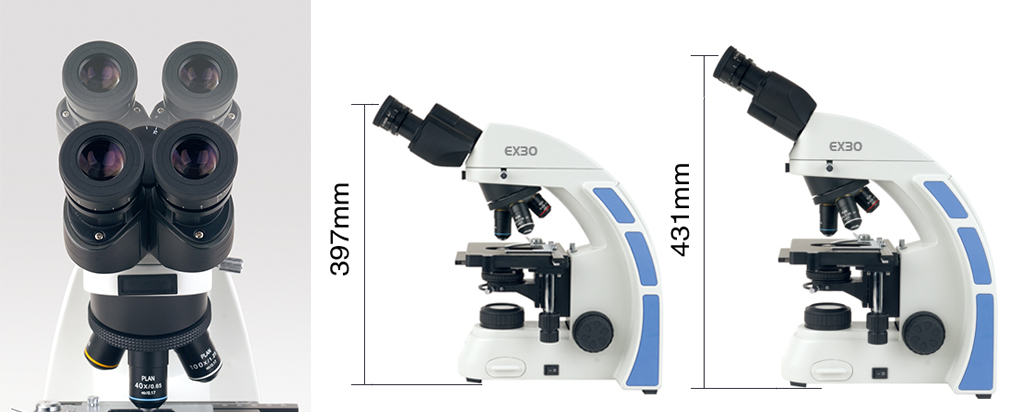 High-powered single LED cold light illuminator
It maintains constant color temperature and closes to sun light.It can apply bright white back-ground without filter that is the best choice of observation for bright-field and photography by CCD. The lluminator supplies stable brightness and temperature difference never occurred even long time worked.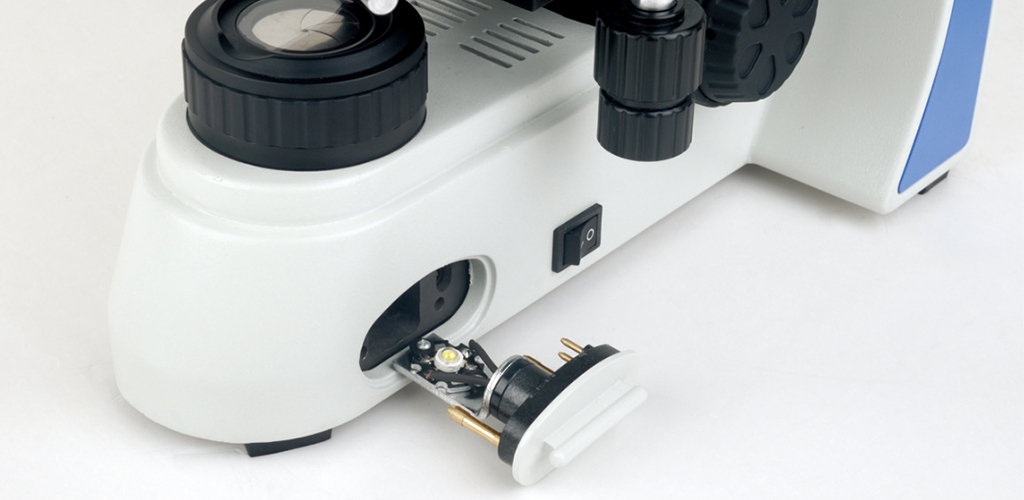 Safe handle design
The handle on the back of main body guarantees tT7 safety of microscope when move it.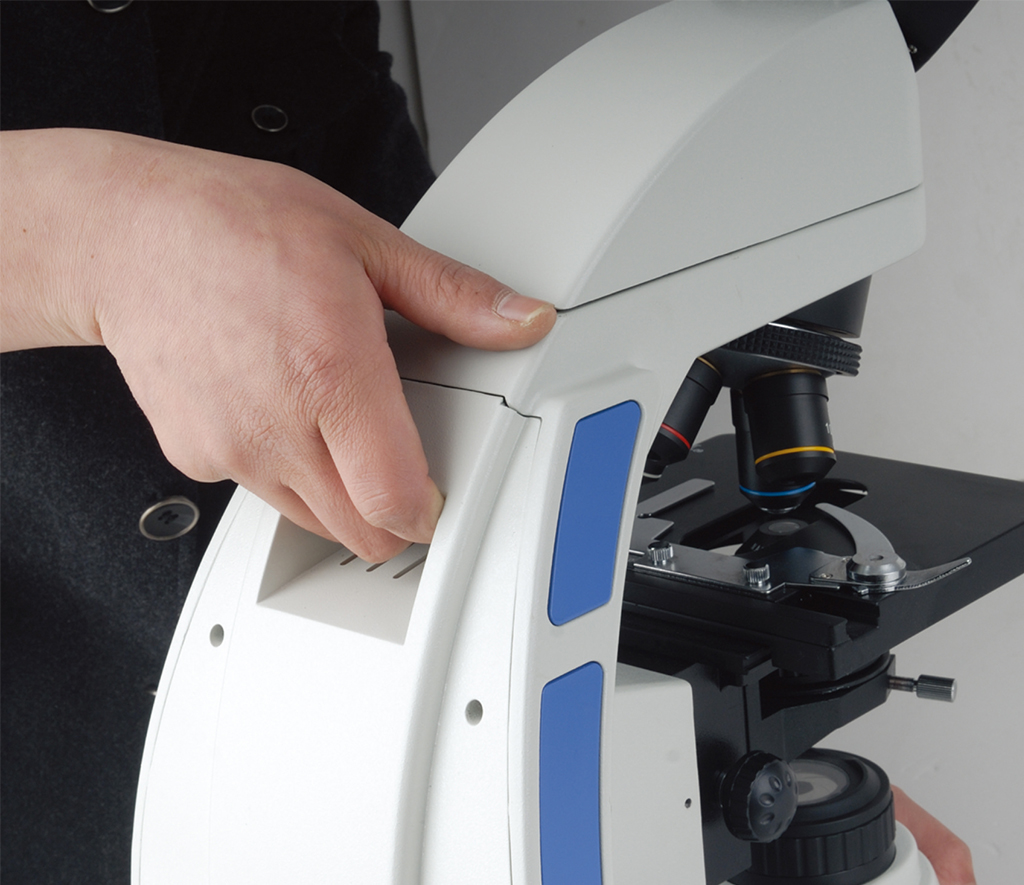 Bright-field observation
New plan achromatic objective used with Kohler llumination system can supply the sharp image after adjusting aperture diaphragm and field diaphragm.You can get high resolution and contrast ratio image at low or high magnification. 3W single LED iluminator supplies bright background.According to different demands,it also can install 6V30W halogen bulb,then the lighting effect is the same.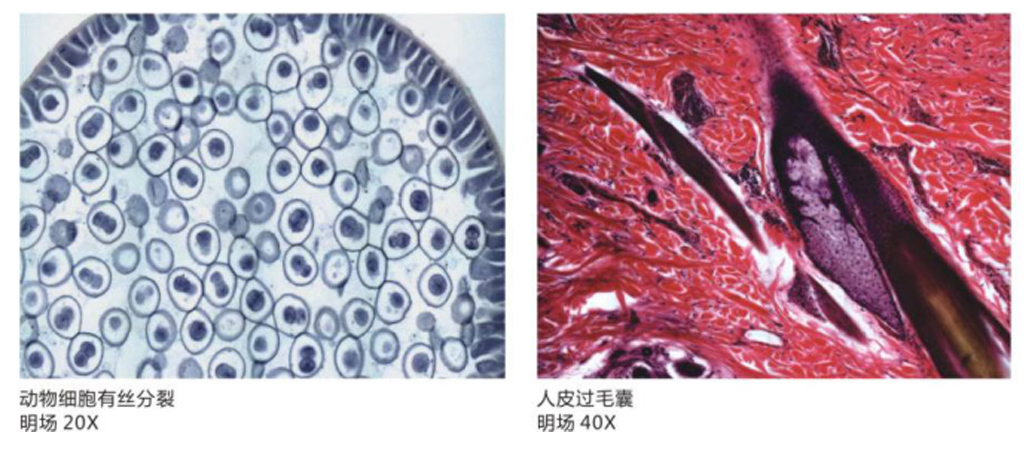 Optical system

Infinity corrected Achromatic optical system

Eyepiece

PL10X/20T High eye-point wide-field plan eyepiece, field of view: 20mm,effective exit pupil distance: 19mm, diopter +/-5 adjustable

PL10X/22T High eye-point wide-field plan eyepiece, field of view: 20mm, effective exit pupil distance: 19mm, diopter +/-5 adjustable

0bjective

nfinity plan achromatic objective 4X、10X、20X、40X、100X

Infinity phase contrast objective 10X、20X、40X、100X

Infinity semi-apochromatic fluorescence objective 4X、10X、20X、40X、100X

Viewing head

30°gemel binocular viewing head with 360° rotatable eyepiece tube, interpupillary adjustable distance: 50-75mm

30°gemel trinocular viewing head with 360° rotatable eyepiece tube, interpupillary adjustable distance: 50-75mm, fixed spectroscopical ratio R:T=80%: 20%

30°gemel trinocular viewing head(dedicated for fluorescence) with 360° rotatable eyepiece tube, interpupillary adjustable distance: 50-75mm, fixed spectroscopical ratio R:T= 50%:50%

30°gemel digital viewing head(with 3.0/5.0 mega pixels)

Nosepiece

Reversed quadruple nosepiece

Reversed quintuple nosepiece

Stage

150x140mm mechanical stage with underhand, moving range: 76x50mm, precision: 0.1mm, with damping clips

Condenser

N.A.1.25 Koehler illuminator condenser(with socket for phase contrast and dark-field accessories)

Mercury reflected illumination

Mercury reflected fluorescent illuminator, 100W mercury lamp house, 100W DC mercury bulb(OSRAM/domestic)

Transmitted illumination

100V-240V_AC50/60Hz wide range voltage, single high brightness 3W LED(predetermine filament center), intensity continuously adjustable

100V-240V_AC50/60Hz wide range voltage, Philips 6V/30W halogen bulbs(predetermined filament center), intensity continuously adjustable

External battery supply

Power supply for at least 8 hours, rechargeable

Camera accessory

1xCTV/0.5xCTV/0.35xCTV、3.2x photo ocular 、photo tube(with PK mount or MD mount), C-mount and relay lens

Other optional

Dark-field accessory, phase contrast accessory, polarizer/analyzer